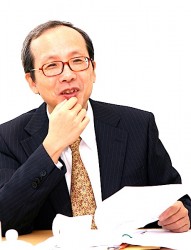 Hong Kong Ideas Centre, by its name, is to call for ideas. It was set up by a group of locally bred devotees who love and care about Hong Kong, with an aim to contribute ideas for the betterment and future of Hong Kong.
Hong Kong is facing a growing number of economic challenges and people are becoming increasingly aware of the risks they might bring. The competitive edges we have developed in the past 50 years are gradually diminishing. For instance, we have been losing jobs in the manufacturing and services sectors to the Mainland. We have also lost our leading position in container throughput to Singapore and Shanghai. Hong Kong was once the top choice for many multinational corporations to establish their headquarters. Some of these headquarters have now been moved to Beijing or Shanghai.
In March 2009, the Central Government officially announced plans to develop Shanghai into an international financial centre, a status Hong Kong has always been proud of. The Chinese proverb "without progress, decline is inevitable" quoted by Premier Wen Jiabao is indeed an accurate description of Hong Kong's situation. Amidst global competition, any city that slows its pace of growth even slightly would be surpassed by its competitors.
Hong Kong is facing unprecedented challenges as a result of the global financial tsunami and the long unresolved problem of economic restructuring. How it can overcome adversity, find new directions and develop steadily are pressing concerns of all members of the Centre. We are all willing to make an effort in overcoming the aforesaid challenges. Through studying and seeking opinion from different sectors of the community, drawing comparisons between Hong Kong and other developed countries and then analyzing these findings, we hope to come up with constructive and innovative recommendations for Hong Kong's economic and social well-being, for the reference of relevant parties and the general public. Our goal is to build Hong Kong into a prosperous, harmonious and sustainable international city.
To achieve the utmost effectiveness, the Centre's work will focus on 3 major areas:
1. Enhancing the competitiveness of Hong Kong's economy;
2. Promoting sustainable economic and social development in Hong Kong;
3. Improving the community's quality of life.
We will be open, rational and impartial in exploring the way out for Hong Kong. As such, our members will draw on collective wisdom, value facts and evidence, progress with the times, take root in Hong Kong with support from the Mainland, and take a global perspective to come up with quality recommendations from our research findings.
Hong Kong Ideas Centre will exert its best efforts for the stable development and future of Hong Kong. Our motto is "Think and build for the future". We believe that so long as our people are united and internal conflicts are reduced, and all of us work together to develop and realize Hong Kong's advantages and potentials, Hong Kong can build a unique identity amidst the tide of globalization. We shall have a better future!
Lawrence FUNG, GBS (Founding Chairman, 2008-2019)