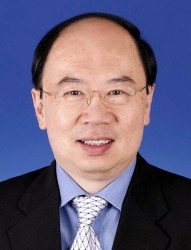 Mr. Herbert Tsoi, BBS, JP, LLM(Lond), Notary Public, China-Appointed Attesting Officer, Civil Celebrant of Marriages
Honorary Legal Advisor
Senior Partner, Herbert Tsoi & Partners
Former President, Law Society of Hong Kong
Member, Jiangsu Provincial Committee, Chinese People's Political Consultative Conference

Mr. Herbert Tsoi is the Senior Partner of Herbert Tsoi and Partners. He was the President of the Law Society of Hong Kong between 2000 and 2002 and is the Chairman of its Probate Committee.
Mr. Tsoi read Law at the University College of the University of London and obtained Bachelor of Laws degree with honours and Master of Law Degree in 1973 and 1977 respectively. He was qualified as a solicitor in England in 1976 and upon his return to Hong Kong joined a local solicitors firm. He was admitted as a partner in 1980. In 1999 he founded the firm Herbert Tsoi and Partners.
Mr. Tsoi was appointed a Notary Public in 1990 and a China-Appointed Attesting Officer in 1995. He was admitted as a barrister and solicitor of the Supreme Court of Victoria in Australia in 1984, a barrister and solicitor of the Supreme Court of the Australian Capital Territory and a barrister of the High Court of Australia in 1990 and also an advocate and solicitor of the Supreme Court of Singapore in 1993.
Mr. Tsoi is a Member of the Chinese People's Political Consultative Conference of Jiangsu Province and an Executive Council Member of Jiangsu Chinese Overseas Friendship Association. He is currently a Member of the Court of the University of Hong Kong and serving in the Public Service Commission, the Chinese Young Men Christian Association and the Hospital Governing Committee of the United Christian Hospital. His is a Council Member of three secondary schools and two primary schools and act as an Honorary Legal Advisor of five Hong Kong non-government organizations.
Among his previous public services, Mr. Tsoi was an Election Committee Member for 1998 and 2000 Legislative Council elections and election of Hong Kong Deputy of the 10th National People's Congress. He also served in Judicial Officers Recommendation Commission, ICAC Operations Review Committee and Witness Protection Review Board Panel, Inland Revenue Board of Review, the Council of Hong Kong Polytechnic University, Law Reform Commission Sub-commission on Decision-making for Comatose Persons and Advance Directives and Charities respectively, Independent Committee of Experts for Review on Management, Planning & Conduct of Elections and Legal Protection Committee of Consumer Council. Mr. Tsoi was appointed a Justice of the Peace in 2001 and awarded Bronze Bauhinia Star by the HKSAR Government in 2006.