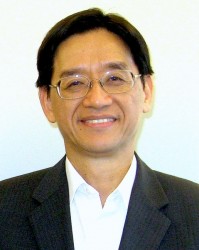 Professor Andrew Chan Chi-fai Ph.D., SBS, JP
Member of Strategic Committee, Hong Kong Ideas Centre
Head, Shaw College, The Chinese University of Hong Kong
Director, EMBA Programme, Business School, The Chinese University of Hong Kong
Professor, Department of Marketing, Business School, The Chinese University of Hong Kong

Professor Andrew Chan is a Professor in the Department of Marketing of the Chinese University of Hong Kong (CUHK), and Director of the EMBA Programme at the Business School of CUHK. On 1 July 2010, Professor Chan took up the headship of Shaw College, CUHK.
Prof. Chan is dedicated to lecturing and doing academic research on strategies and marketing management. He has abundant consultancy experience of strategies and marketing for Hong Kong and international businesses to enhance their marketing management and overall competitiveness.
Prof. Chan is currently the Chairman of Chinese Medicine Council, a Member of Electoral Affairs Commission, a Member of Lump Sum Grant Steering Committee of Social Welfare Department, a Member of Quality Tourism Services Committee, a Member of Accreditation Strategic Advisory Board of Hong Kong Institute of Human Resource Management, an Adviser of Quality Tourism Services Association and a Justice of the Peace.
In 1977, Prof. Chan received his first degree in Business Administration from the Chinese University of Hong Kong and was later conferred in 1993 with a Doctor of Philosophy by his alma mater. Before this, he was awarded in 1979 a Master degree in Business Administration by the University of California, Berkeley USA.
Prof. Chan had taken up public services extensively. He was the Chairman of the Consumer Council from 2000 to 2006 and had made tremendous contribution to the promotion of consumer protection. He also served as the Chairman of Hong Kong Deposit Protection Board, a Director of Hong Kong Mortgage Corporation, a Member of Investor Education Advisory Committee of Securities & Futures Commission, a Member of Hong Kong Tourism Board and External Examiner of School of Professional and Continuing Education of the University of Hong Kong. Prof. Chan was awarded the Silver Bauhinia Star by the Government of the Hong Kong Special Administrative Region in 2007.