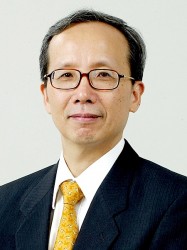 Mr. Lawrence FUNG Siu-por GBS
Chairman of Executive Board and Strategic Committee, Hong Kong Ideas Centre
Chairman, Hong Kong Economic Times Holdings Ltd.

Mr. Lawrence Fung Siu-por, is the Founder and Chairman of Hong Kong Economic Times Holdings Limited since its inception. He was also the first Publisher and Chief Editor of the Hong Kong Economic Times (HKET) launched in 1988. He is responsible for the overall strategic planning and development, policy-making and corporate missions setting of the Group.
Mr. Fung has over 30 years of entrepreneurial experience in media and publishing, trading, securities, computer technology, manufacturing and business services. He had been very active in student activities in his University days and was elected the President of the Students' Union of The University of Hong Kong (HKU) in 1971. Mr. Fung graduated from HKU in 1972 and obtained a Master of Arts degree in Economics from the University of Manchester, UK, in 1977.
In gratitude to his alma mater and the community, Mr. Fung and his wife made a generous donation to HKU and co-founded the Azalea (1972) Endowment Fund in 2006. In 2007, he was granted "40 under 40 Distinguished Alumni Awards" by the Faculty of Social Sciences, HKU. Mr. Fung was awarded the Gold Bauhinia Star by the Government of the Hong Kong Special Administrative Region in 2003. In recognition of his contributions to academia and Hong Kong, HKU conferred upon him the Degree of Doctor of Social Sciences honoris causa in 2010.